OVERVIEW


Your friend, Anna had some symptoms of Corona, so she made an appointment with her doctor, Dr. Kondor. She went to his private practice for a Covid-19 test, but you haven't heard from her since days! You decide to investigate dr Kondor's private practice and find out something strange. There are rumors that Dr. Kondor is conducting horrific experiments on his patients…you should find out the truth, and you have to find Anna! Can you find Anna, and make sure she is safe? Can you unravel the mystery while staying alive on what happened to all the missing people and at the same time escape dr. Kondor's office?
A fantastic game that challenges teamwork, communication and above all brains! You have to work together to escape! Offering a 360 interactive escape room with a lot of actors and video content that shows the story, you have the real life experience from the comfort of your couch, or behind your desk, together with your team of friends, colleagues or family regardless of their location! Can you escape? The secret is on the flowers!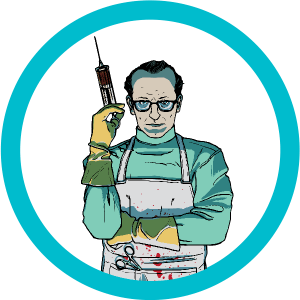 What Can you expect from our 360 Escape Games?
✅ Welcome Email with instructions to login game portal
✅ Players can watch tutorial video how to play the game
✅ 360 interactive room view with props
✅ Multiplayer interface ( you see the other teammembers actions)
✅ Integrated live video chat
✅ Hint system availlable
✅ Leaderboard and group photo included to share
✅ Start your Experience at any time